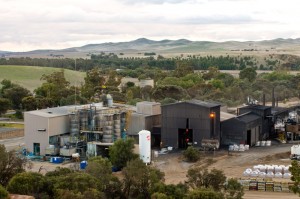 Adchem employs over 50 people at the Burra production facility. A small commercial team is located at the Melbourne Head Office of Adchem's parent company, Ausminco Pty Ltd. The Managing Director (Mark Woodhead) of Adchem and Ausminco is also the sole shareholder of both companies. Mr Woodhead has 30 years involvement in the production and global marketing of copper chemicals.
The manufacturing facility at Burra has been producing copper chemicals since 1970 and the majority of output is exported to customers in over 20 countries.
Adchem's products are used as inputs in a wide range of industrial (wood preservation, automotive, electronic, catalyst, metal treatment, surface coatings) and agricultural (trace element in both animal feed and fertilizers) applications. Our products are also used as a starting point for down- stream copper chemical production.
Adchem has worked extremely hard to establish a global reputation as a reliable supplier of high quality products with a strong emphasis on developing relationships with key stakeholders (customers and suppliers) that are mutually beneficial.
History
Copper mining first commenced in Burra in the mid 1850's. The area adjacent to the Adchem processing plant has a long and very proud association with the mining and production of copper. In 1970, the original owners of the Burra chemical facility (Samin Ltd) constructed the ammonia leach plant to process Copper ore from the adjacent copper mine. Although mining of the ore body ceased in 1980 the chemical processing facility has not only continued but expanded strongly by sourcing a variety of copper bearing raw material sources.
Adchem (Australia) Pty Ltd acquired the assets of the Burra chemical plant in 1995 from Adelaide Chemical Company Ltd (formerly an operating division of Adelaide and Wallaroo Fertilizers Ltd and also Golden Shamrock Mines Ltd). Ausminco Pty Ltd was the majority shareholder of Adchem at that time and, by end 1997, had acquired 100% of the issued shares of Adchem.
From a production level in 1995 of less than 5,000 tonnes, Adchem have grown the business substantially to now produce in excess of 15,000 tonnes per annum.
Cupric Oxide production commenced in 1970 and Copper Carbonate production commenced in 2001.