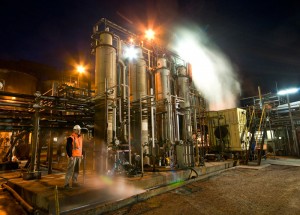 The Burra plant uses a hydrometallurgical process to convert low grade copper raw materials to high purity chemical products. Raw materials are dissolved in an ammonia solution to form copper amine. The resultant solution is then purified and is used as feedstock to the Copper Oxide and Copper Carbonate production plants.
The copper chemical products can be packed direct (Regular Grade) into a variety of bags from 25 Kgs to 2 Mt bulker bags. Alternatively, the particle size of the products can be reduced by processing through grinding mills and classified to meet various particle size requirements according to customer requirements. Each Lot of copper chemical is produced specifically for a customer and is sampled throughout the production process to ensure it meets agreed chemical and physical specifications. The chemical analysis of the products is determined by Adchem's laboratory in Burra.
Product for the Australian market is despatched direct to the customer while products for export are containerised in Adelaide and shipped from either the ports of Adelaide or Melbourne.
If you require a Safety Data Sheet or further information please contact the Melbourne office.
Raw Materials
A major advantage Adchem has over a variety of global competition is the ability of our processing plant to consume many different types of raw materials – these can be categorized as Primary Copper Sources (eg; ore body derived such as copper cements or precipitates) or Secondary (eg; scrap metal, industrial residues and by-products).
Adchem's relationships with raw material suppliers are a key part of the Company's long term success and to this end constantly engages with current and potential suppliers on the development of raw material sources.